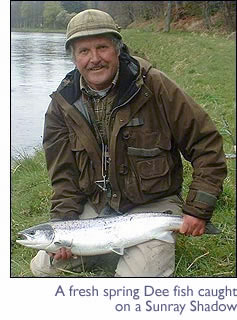 My name is Malcolm Newbould, I run a guiding service for fly-fishing for salmon in the North East of Scotland.
I have been salmon fishing for most of my life having started as a boy, fishing the Inverness Angling Association water on the River Ness.
I have experience on the rivers Dee, Deveron, Spey, Findhorn, Nairn, Ness, Beauly, Conon and Brora.
Recently, I've been spending much of my time on the Spey where I have experience on most of the beats.
The rivers in the North East of Scotland fish in different times of the season, the Dee is in form from early February whilst the Ness fishes best towards the Autumn and the Deveron is still producing fresh fish right to the end of October.
The Spey is renowned for the Spey cast and, of course, its whisky production - not forgetting the salmon fishing!
Tackle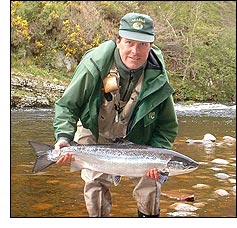 I can supply all the equipment necessary excluding waterproof clothes, although I can also advise you if you would rather use your own tackle.
The tackle I supply will always be suited to the experience, age and strengths of the visiting angler(s).
Rods: either Bruce and Walker or Meiser,
Reels: Hardy
Lines: Partridge
Waders: Ocean
Flies: Specially tied and suitable for the river to be fished and the time of year.
Leaders: Appropriate for anglers experience and conditions
Casting
I am a qualified casting instructor GAIC (Salmon) so I am able to correct casting faults and technique if desired. Although overhead casting is sometimes appropriate, the Spey cast is a much more versatile cast and allows anglers to fish where trees and high banks are on the river. It also has the advantage that the fly never goes behind the angler so should not suffer from damaged points.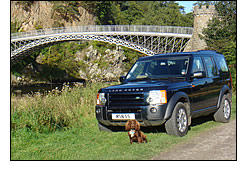 With matched tackle Spey casting is fairly easily mastered when the physics have been properly explained.
Guiding
There are so many options it is impossible to list them all here but a telephone call to 07967970704 or an email to malcolm@speygillie.co.uk should allow me to discuss your needs, whether for a single day of salmon fishing or a full week fishing some of the best rivers in Europe.
If you only have a day to spend fishing in the middle of a stressful business trip, I can pick you up from either Inverness or Aberdeen airport in my Discovery, whisk you to a suitable beat where you can relax and fish all day to be returned refreshed and recharged back to the airport to resume your busy business life.
| | |
| --- | --- |
| | "Whenever I am able to visit Scotland I take advantage of Malcolm's services – he is excellent company and his good humour and depth of knowledge help to make every day enjoyable. He has a network of good contacts on the Spey other NE rivers with access to many good beats, and a selection of well matched and carefully assembled tackle to enable any pool to be properly covered. His casting ability is first class and he is always able to provide instruction or those few minor tips that can make the difference in covering a pool successfully and catching a fish. If you are visiting the Spey valley then Malcolm is the man to put you in the right place at the right time – after that it's down to covering a taking fish!" |
| | |
Prices
All depend on the level of service required.
Full service: Pick up from suitable airport or hotel, supply with all necessary tackle, lunch and drinks including wine and a wee dram. £350 per day plus the cost of fishing.
Full service using own tackle: £200 per day plus the cost of fishing.
Guiding only: Meet at beat and supply tackle £200 per day.
Guiding only: £150 per day.
Discounts are available for multi day bookings
Please get in touch in plenty of time as top quality fishing is booked up well in advance but do not despair as my local connections can sometimes allow me to find some good beats at short notice. I can organise an entire fishing trip, if required including accommodation in either quality hotels or B&B depending on taste.
Contact
To contact me please telephone 07967 970 704 or email malcolm@speygillie.co.uk